About Morgan Bulkeley, Artist
Short Biography
Morgan Bulkeley was born in the Berkshires of Massachusetts in 1944. He was raised on a small farm in the town of Mount Washington, where his parents, both naturalists, raised many wild, orphaned animals. He graduated from Yale University in 1966 with a B.A. in English Literature. After a stint in the Coast Guard, he spent a year in Newark New Jersey, drawing and working with VISTA Programs. Subsequently he spent 14 years in Cambridge Massachusetts painting and sculpting. In 1985 he returned to his childhood home where he lives with his environmentalist wife Eleanor Tillinghast.
Berkshares
Morgan's painting "Bash Bish Gap" was selected to grace the W.E.B. Dubois five BerkShares note. BerkShares is a local currency for the Berkshire region of Massachusetts that launched in September of 2006. Each denomination has a local hero on the front and a the work of a local artist on the back.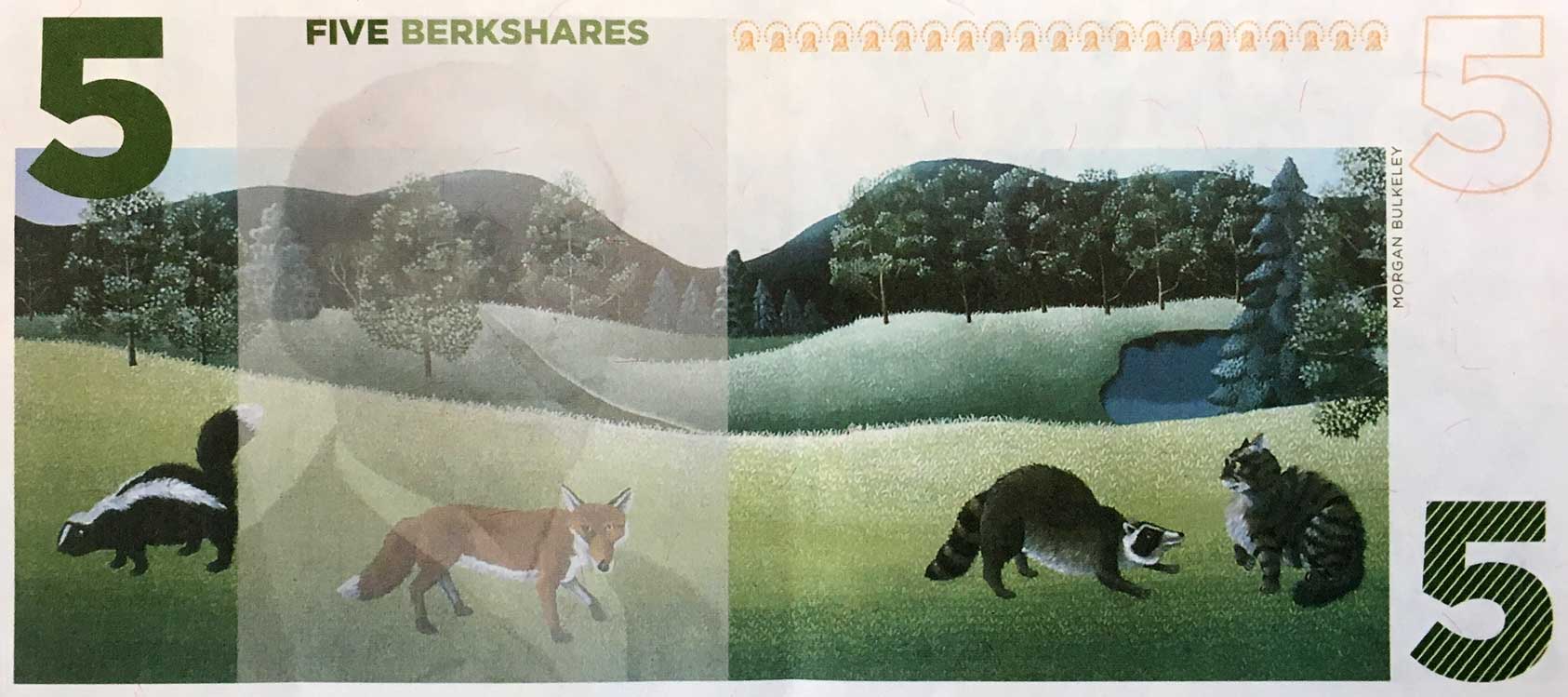 Résumé of Morgan Bulkeley
Birth Date: June 30, 1944
Education: 1966, Yale University, B.A. English Literature
View selected solo shows, group exhibitions, awards, bibliography, and catalogue
Catalogue Essay | by Geoffrey Young
If polar icecaps melted and rain fell endlessly and we suddenly needed an Ark stocked for the next millennium, I'd know who to call. In charge of lining up bird, beast, wildflower, tree & other phenomena of the natural world would be Morgan Bulkeley, in whose view of the creation no critter goes unvalued. The son of a naturalist, and himself a lifelong devotee of bird and free-range beast, Bulkeley has a well-developed sense of the fragile balance in which nature and man co-exist. In his world, rattlesnake, weasel, spoonbill and butterfly would file in next to thistle, fern, grass, and wildflower (among all things great and small) in one generously fluid category labeled: "All Equally Beautiful and Necessary." Humans, too, would be included, but it is not clear if our species would be allowed above steerage...